Here at ASG we are happy to provide information however we are able to do so. We understand that many folks are opting for a nomadic, adventurous lifestyle for many reasons such as environmental concerns, the desire to experience new things, and also personal financial considerations. Luckily, getting solar for RV's (and #vanlife) is not difficult and can provide a great solution for those seeking to explore our country's wide open spaces.
Full-time #Vanlife is an Ecofriendly Option
You may be asking yourself, what do we mean when we are talking about #VanLife or #RVLife ? These popular hashtags can be found all over the internet across a host of social media platforms if you're seeking further visuals. In the most simplest definition, it refers to those who choose to pack up and hit the road permanently. They will usually convert an RV or a large vehicle(such as a van or used school bus) into a tiny house that they live out of while traveling. These are usually outfitted with water systems, full bathrooms, kitchens, and a large(by comparison) living area that can be used for home office and entertaining guests. These vehicles range from very practical and utilitarian in nature to full on glam and luxury, depending on the builders budget. So why are people doing this? Some folks have a need to feel more independence than a stationary home would allow. Maybe others want to work remotely while getting the opportunity to travel. Others feel like the nomadic lifestyle is best for leaving behind a smaller carbon footprint and doing their part to save the environment and combat global warming. Once the vehicle is built and equipped with everything you need, it is definitely a more cost effective living style than traditional homes – and people really like saving money across all demographics. Getting solar panels installed onto the top of your vehicle is one more way to do so.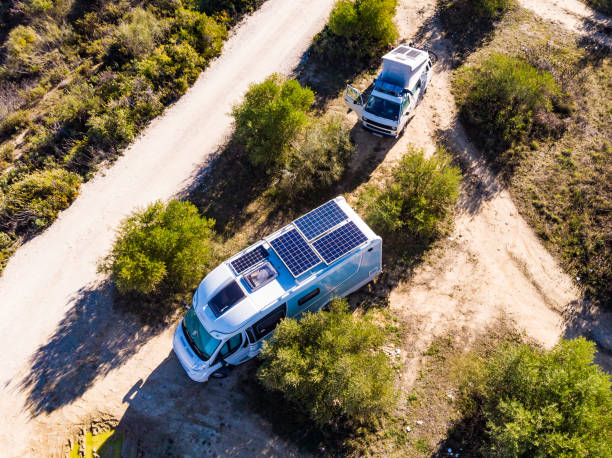 Mapping Out Your Power Needs
Board your ship, captain! Let us take a look at what you have on deck. In order to map out how much solar energy you're going to need, and potentially what system and storage units you'll be looking into, you need to take stock of what appliances or systems you have set up (or will have set up) in your RV. Getting solar for rv's or #vanlife is not a difficult task, it is just something you need to consider when loading your vehicle full of gadgets. While you can consolidate space on the inside of your vehicle as much as possible, you only get a certain amount of roof space, and this is where your panels go. Many folks who have a vehicle like this choose to not have a microwave for example, because of the high draw of stored electric. You can find the wattage on the packages in the area where the product description gets to the small text. It should also be present on any label that may be on the wire and plug. Once you add it all up, and you take into account how often you use each thing, or if it is going to always be on (such as a freezer or fridge), you can get a rough idea of how much solar energy you'll need to store in order to operate in a fully eco-friendly way.
How is Solar Stored in a Vehicle?
Much like on a traditional home when installing solar panels, should you have excess (and you probably will, at least a little bit, as your "home" is very small comparably) it will be stored somewhere. We recommend a small generator or battery pack. It is entirely possible to install solar for RV's and #vanlife and have that extra power go to your generator or battery pack. It just depends on how you wire it up and and how your system was designed originally. We always recommend that for full-time living, one should keep an emergency generator full before venturing out into the middle of nowhere – just in case you need to call for help but can't charge your phone or something like that. You never know what's going to happen, so you should always be safe – but that is part of the fun and excitement of being an adventurer!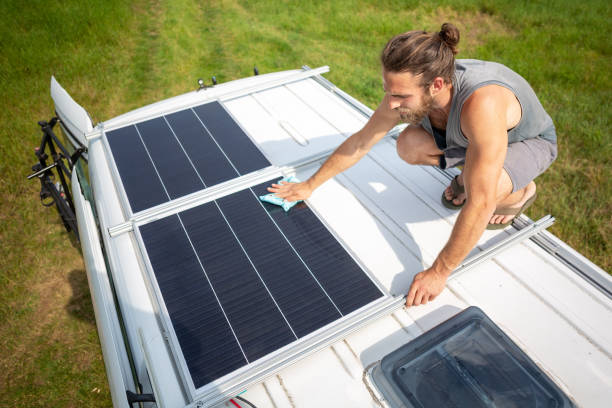 Part-Time Adventurers Benefit as Well!
Are we saying that full-time living on the road is for everyone? Certainly not, in fact it isn't for most people! You may opt to go solar on your vehicle for weekend adventures or road trips. This will allow you to keep a low profile while traveling and avoid having to stop at hotels (which can be costly and do add up) while on the road. You can always have all of the comforts of home while being in your home-away-from-home. One of the benefits of using a vehicle like this for smaller excursions would be that your solar panels will be storing an abundance of energy even when you aren't using it! While it wouldn't be possible to sell this energy back to the grid, as you can with our home set-ups, you can still store it in your battery packs and generators for future use.
If you're interested in speaking with an ASG representative to have your questions answered, you can either schedule a call with us by clicking here, or you can email us at care@advisorssolar.com or call us directly at (800) 949-6089.
We look forward to hearing from you!